Main content starts here, tab to start navigating
Art & Light Collaboration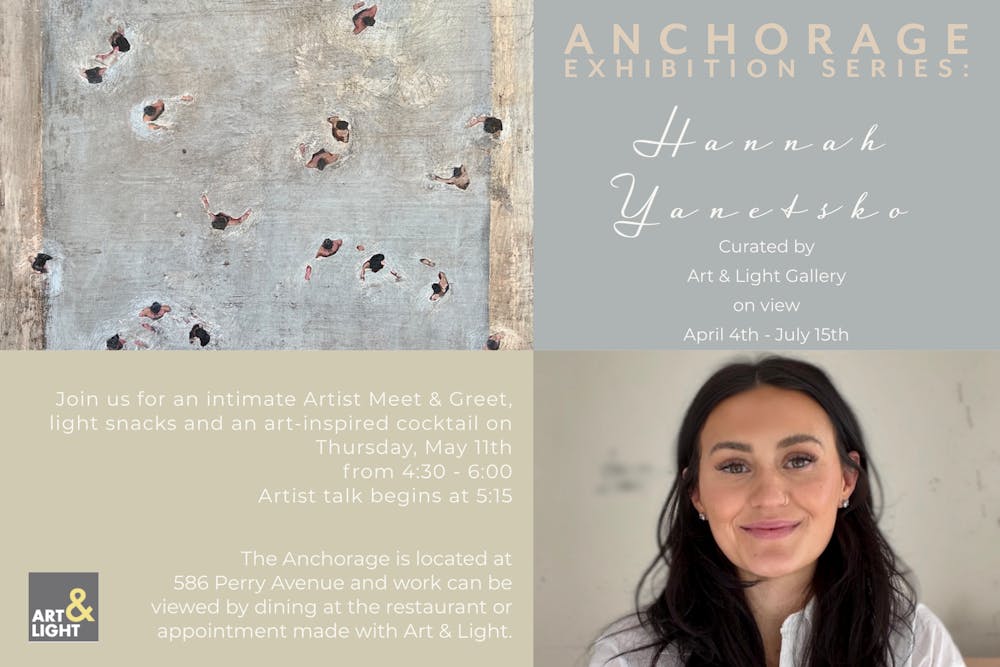 With the promise of summer comes a new collection of work by Davidson, NC contemporary artist, Hannah Yanetsko. This exhibit entitled The Space Between Love and Mystery promises to transport you from the doldrums of winter to the warm, inviting coastline of your imagination.
As The Anchorage, a James Beard nominated restaurant, ushers in fresh seasonal spring bounty, Art & Light Gallery is excited to partner once again with our favorite neighborhood eatery in West Greenville to swap out their walls with a new ocean-inspired exhibition by Yanetsko. Her artwork will take you on a deep dive in an attempt to make sense of the unknown while celebrating the connection between culinary arts and fine art.
Yanetsko's work is notable for human forms adrift on the water, teeming with mystery, meaning, and restfulness. Her vision of life's wonder is clearly inhabited in her aesthetic; the ocean's perpetual movement dazzles on sculptural resin surfaces, capturing and reflecting light, illuminating ocean swells that echo peacefulness between the peaks and troughs.
Regarding this collection, Yanetsko reflects, "We are all wading in some sense, wading through grief, disappointment, and uncertainty. A loss, a dying dream, or the space that holds what has been and gone and yet is still to come. Perspective helps us navigate those 'other' oceans – viewpoint doesn't change what exists, but our position, the posture of how we engage with it."
If one observes closely, the surface of her paintings incorporates wax, tar, coffee, & paint covered in resin. Layers are poured, buffed, spread, and sloughed. Additional layers are put on and scoured back, exfoliated and refined including marks and scars, grit and stains. These layers, like life, are "the depth that gives ground to remembering and rejoicing." Diving even deeper, Yanetsko's pieces begin with the basis of memory and renditions of memories. Occasionally based on loss like her father's, other times life, like the birth of her daughters, Yanetsko is sure of one thing: "Everything lost, love is returning. Here in the waiting, wave after wave."
This new body of work according to Yanetsko, "invites the exploration of the space between love and mystery, where the unknown becomes a meeting place of grief and goodness." She also notes, "If engaging with eternity is anything more than breathing, it's a way of moving beyond the hem of bleary sight, trusting and trembling, gently assured by the rhythm of breath, the ever-returning tides, and greater love."
The Space Between Love and Mystery will be released through Art & Light Gallery on April 4 online and in the gallery beginning at 10am EST and will conclude July 15. The exhibit is also on view during regular dining hours at The Anchorage. Join Yanetsko during a ticketed artist meet and greet on Thursday, May 11 from 4:30-6pm EST to hear about the inspiration behind her new collection, The Space Between Love and Mystery. Reservations are available for dinner after the event by contacting The Anchorage.
For those unable to attend the event at The Anchorage, the artist talk on May 11 is streamed live on Instagram account @artandlightgallery starting at 5:15pm EST allowing art collectors and food enthusiasts to attend and interact virtually. During the event, the signature cocktail is served along with small bites, resulting in the perfect culmination of fine art and fine food.
Tickets to our Meet The Artist event are currently available on our website here.